The key to successful trading is this: just follow the market movement. Swim with the tide, not against it, and make money along with the biggest players.
That being said, how do you figure out the moods of the market makers and predict the price movement direction? The majority of traders take a cue only from the price chart and regular Forex indicators; however, this is not enough.
The price is only the tip of an iceberg. To be able to see what state the market is in from the inside, you have to take into account another vital detail, namely a traded volume. For this, you can take advantage of a volume indicator, a tool that unlocks the doors to the world of profitable professional trading.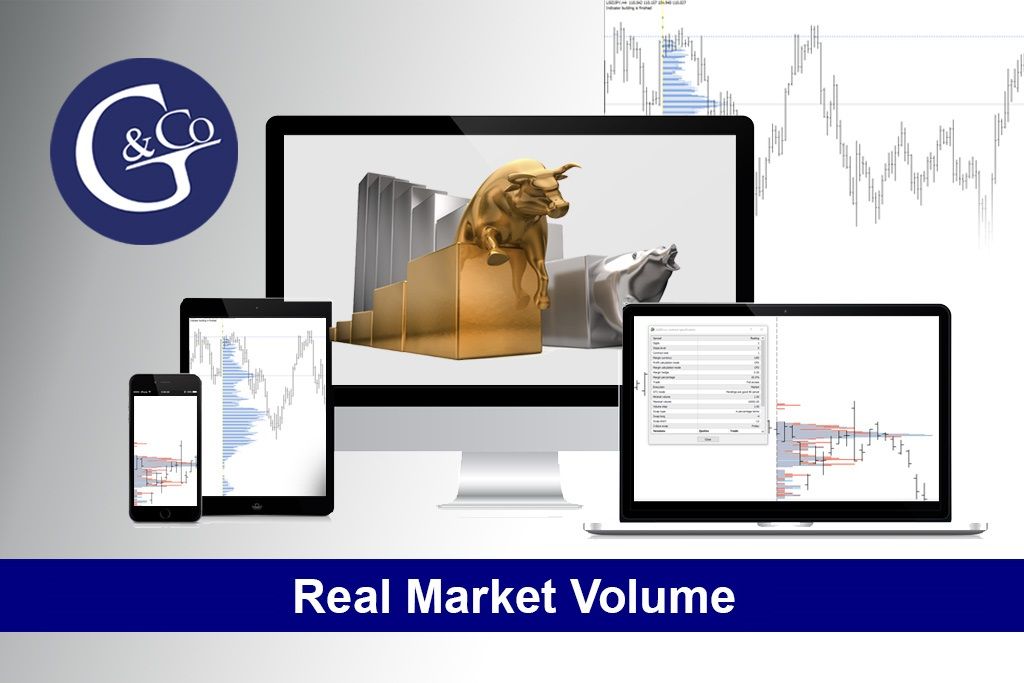 In today's article, we are going to talk about:
1. What Volume Indicator is and what it is for
2. Where to get Volume Indicator
3. Advantages of trading with Real Market Volume
4. How to download Forex Volume Indicator
What volume indicator is and what it is for
Horizontal volume indicator is a market profile that demonstrates the volume of long and short positions which has been traded in the futures market over a certain time period.
What is this indicator for? Here's an example. Let's assume that the asset price goes up and breaks out an important resistance level, then consolidates and starts moving sideways.
On the one hand, it would be logical to assume that if the resistance area had been overcome, the price will continue going up and so you can open a long position. On the flipside, if the market is quiet, the bulls might be growing weaker and the bears are about to reverse the trend. In this scenario, you should go short.
So, how do you make the right trading decision? Certainly, chart data alone won't be enough. You need to download the volume indicator which is going to help you understand who is currently controlling the market.
If the market profile shows that there are many buy orders in the consolidation area, it means that the buyers are still dominating and there is a high chance that the uptrend will continue. If you see a large volume of sell orders, the sellers have seized the initiative and so you can expect the trend to reverse and head downwards.
Where to get volume indicator
Data on market volumes are formed on the Chicago Mercantile Exchange (CME). As you can imagine, these data aren't available to a regular trader. You can also find volume indicators online but typically their use is fee-based.
If you would like to get a high-quality tool to trade volumes for free, we have just the right solution for you. This is Forex indicator Real Market Volume brought to you by Gerchik & Co.
This is a fully-functional market profile based on the latest CME data which are supplied distortion- and delay-free, so you get the most accurate picture of the current market situation.
All customers at Gerchik & Co are free to use this unique indicator by installing it in their trading terminal. Real Market Volume is available for all major forex currency pairs, along with S&P 500 and NASDAQ indices, and works perfectly with any timeframe.
Advantages of trading with Real Market Volume
By using the volume indicator in MT4, you can:
See the power relation of market players online.
Filter off false signals and find accurate entry points.
Determine the trend strength and learn about potential reversal before other MT4 indicators show it.
Identify strong support and resistance levels, taking into account the price marks beside which the largest traded volume has been accumulated.
Boost profitability of any trading strategy (intraday strategy, in particular).
Reduce trading risks and keep unprofitable trades to a minimum.
Make money where the market sharks make profit.
How to download Forex volume indicator
To use the Real Market Volume, all you have to do is just take these 5 simple steps.
Step 1. Register with gerchik & co
Registration takes a couple of minutes. After that, you will have to verify your account in order to open a trading account, get access to the indicator and other services offered by the company. The whole process is fast and hassle-free.
Step 2. Download metatrader 4 trading terminal
Real Market Volume is an indicator which works only in MT4 terminal which has been downloaded specifically from the Gerchik & Co website.
Step 3. Install the indicator
On the website of the broker, you will find a download link. Upload the indicator into the trading platform using the installer.
Step 4. Configure the settings
In the settings, you can configure:
Data analysis time lieriod by volume.
Indicator tylie i.e. dynamic or floating. Dynamic lirofile demonstrates volume distribution for a certain time lieriod starting from the current time, whereas the floating one does so in the selected lirice range.
Volume diagram dislilay format (behind or on toli of the lirice chart).
Diagram color.
Adjustment of indicators according to the market situation.
Step 5. Use the indicator when trading
Free 30-day trial version of the Volume Indicator is available. To continue using Real Market Volume upon expiry of the trial period, you just need to make $500 replenishment of your account. Please note that this is NOT a fee charged for this indicator: the funds will remain in your account, and you will be able to trade using them.
If you believe you had enough trading like an amateur, give Volume Indicator by Gerchik & Co a try and take a quantum leap in your trading!
Login in Personal Account