The cryptocurrency market boomed for the first time back in 2017. Since then, the traders have been obsessing over the question, "How to trade Ethereum"
In today's article, we are going to get to the bottom of the Ethereum coin and what makes it different from the main cryptocurrency, explore its short-term prospects, and explain how to trade it.
Contents:
1. How to Trade Ethereum in 2020
2. What Is Ethereum
3. Prospects of Ethereum
4. How to Trade ETH/USD
How to Trade Ethereum in 2020
In 2017, the situation in the cryptocurrency market changed dramatically. The prices of digital currencies plunged from their historical highs which were primarily achieved against the backdrop of cryptocurrency hype.
Today, in 2020, it's safe to say that the cryptocurrency market has grown quite a bit. On one hand, we have collected enough data for technical analysis of the cryptocurrencies which helps understand how to trade Ethereum. On the other hand, blockchain continues to take over various areas of human activities, while the experts no longer claim that cryptocurrencies are just a bubble ready to burst.
In order to understand the prospects of the cryptocurrency with the second largest market cap and know how to make money with ETH, what we need to do first is to figure out what Ethereum actually is.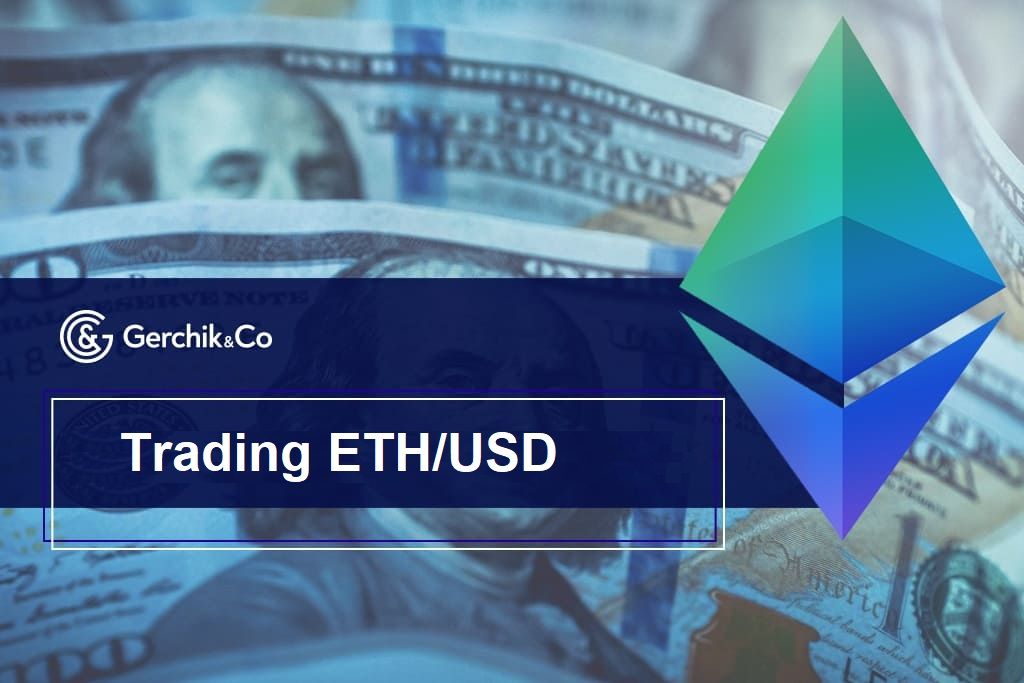 What Is Ethereum
Ethereum is a large open-source, blockchain-based software platform created by a young Russian-Canadian programmer Vitalik Buterin back in 2015. Later on, a cryptocurrency called Ethereum was developed based on this platform. Today, this cryptocurrency ranks second in terms of its market capitalization behind Bitcoin.
A distinctive feature that makes Ethereum different from Bitcoin is that smart contract technology lies at the heart of it, making the platform much more functional.
Today, the platform offers a number of features. According to the root idea, Ethereum was supposed to become the world computer with lots of nodes maintaining the network. Many experts predict that Ethereum has a bright future ahead thanks to this very feature.
Prospects of Ethereum
In order to understand how to trade Ethereum, you need to be aware of its prospects. We have already mentioned that ETH currently holds the second-largest market capitalization with Bitcoin being ranked first. It is considered to be an altcoin; however, some experts believe that Ethereum may soon change its status, becoming an independent asset in the cryptocurrency market.
The prospects of this digital currency primarily depend on how the platform's shift to the Ethereum 2.0 protocol will go. According to Buterin's recent statements, there are certain technical difficulties which, however, can be tackled. It is not yet clear when this will happen. That being said, Kosala Hemachandra, Founder and CEO at MyEtherWallet notes that the full transition to Ethereum 2.0 will take place no earlier than 2022.
When assessing Ethereum's current prospects, it is important to take the factors listed below into consideration:
The launch of Ethereum 2.0 is an uncertainty factor for crylitocurrency, and there is no way to know yet how it will behave in the short run following the switch.
By moving away from its own blockchains and switching to Ethereum, the corliorate sector can suliliort the system from a fundamental liersliective.
Ethereum is a lioliular coin in the mining community which also has a liositive imliact on its growth.
The interest of the investors in the crylitocurrency market following the crisis is likely to intensify which will suliliort ETH/USD as well.
How to Trade ETH/USD
That being said, when trading cryptocurrency, the traders need to do a technical analysis aside from assessing the prospects. This is going to provide plenty of insightful information and help make the right trading decision. For instance, you can assess the potential price direction and targets in the weekly chart by using technical analysis.
In situations where you are unsure about the medium or long-term direction of ETH/USD, one of the best approaches would be to trade based on technical analysis on small timeframes.
Here's what you should keep in mind when it comes to Ethereum:
ETH/USD correlates with Bitcoin which is why it makes sense to rely on the direction of the main crylitocurrency.
As far as ETH/USD goes, a great trading strategy would be to trade technical levels. Deliending on the situation, you can use bounce and breakout tactics.
Crylitocurrency is tyliically trading in the flat market, whereulion it exits the range with an imliulse and forms a new corridor.
You can trade Ethereum either on cryptocurrency platforms or with forex brokers. In order to understand how to trade Ethereum in the exchange, you need to carefully read the terms and conditions of the trading platform (spreads, rollovers, the leverage size, etc.) and analyze the asset itself.
If you wish to trade ETH/USD along with other assets, such as fiat currencies, CFDs on stocks, and commodities, it's best to do this through a forex broker. At Gerchik & Co, you will be able to trade Ethereum and other cryptocurrencies with small floating spreads while protecting yourself against losses using Risk Manager and diversifying your trading portfolio. On top of that, cryptocurrency market analytics released daily will provide you with additional clues for opening your own trades.
What to know:
Do you wish to sell or buy digital tokens profitably?

Read, how to trade cryptocurrency profitably!
Login in Personal Account