On September 13th, Alexander Gerchik, a president at Gerchik & Co, also known as the «Boss», is celebrating his birthday.
Alexander Gerchik is an acknowledged expert. In 2020, in recognition of his contribution to the financial industry, he was awarded the title of Honorary Member of the HiSTES, High School Teachers European Society. He is an excellent motivator, mentor, and flourishing trader. His own experience proves that the American dream is attainable as long as you work hard, keep learning, and have your eyes on the ball.
Loads of people know Alex Gerchik's story of becoming a millionaire after starting off as a simple cab driver and hitting the stock market with $400 in his pocket. His vast experience lies at the heart of one of the most popular educational courses «Reboot of Your Trading from Gerchik» which helped 1,000+ traders to improve their trading performance.
Watch this short video to learn about Aleksandr Gerchik's success story
We had an absolute pleasure to interview Alexander Gerchik who is not only a successful trader but an incredibly wise man, interacting with whom is a huge source of inspiration and motivation.
I consider myself a very happy person because I do what I love. I have the job that I love and my favorite partners. I have what I value the most and that's my greatest treasure. So, yes, I can definitely call myself a happy man. However, I didn't have any huge plans in mind when I was obtaining the broker license. I had no idea that it would turn out to be this good. As a matter of fact, it turned out to be so much better than I could have ever imagined.
My parents had no idea what trading was as they come from the Soviet era. The main thing is that they saw that I was very happy. I was very excited about everything that was going on in my life. I found myself in the American corporate environment. My parents have always supported me, and they supported my decision to move to the United States as well. I am very lucky to have such a mom and dad. Although when I told my father that I had decided to try my hand at the stock market, he said that it wasn't what he raised me to be. However, when I explained to him what the financial market was, things got better.
Work your ass off or get the f**k outta here.
The thing is, the person gets used to an absolutely monotone speech. That's how our brain is wired. When I was holding my workshops, I noticed that people's ability to listen decreases overtime. There's a portion of the information they simply don't take in. This is why nowadays I either tell jokes or say something provocative in order to shake my audience up and hold its attention further.
I had a very interesting conversation in Monaco many years ago. I met a professor at the local college. When I shared that I was using swear words, he told me that he was doing the exact same thing. He basically confirmed my assumptions. So, essentially swearing is not a way to motivate. It's a way to make people listen carefully because profanities grate on your ear.
This is hardly a strategy but rather an inseparable part of trading. It's like with the car that needs the road, you know. The levels are an integral part of it, whereas the strategy lies in having a clear understanding of the market. In other words, when people say that they have mastered the art of drawing levels, it doesn't constitute even 5% of the success as far as an understanding of the market goes.
The person should know what they want, how they want it, and - most importantly - why they want it.
I don't celebrate my birthday at all and honestly, I'm very easy to surprise. Just a kind word or a simple birthday wish like "Happy Birthday, Mr.Gerchik/Boss/Gerchik!" is enough for me.
Mr.Gerchik, thank you so much for the interview. We also wish to express our most heartfelt congratulations on your birthday! May you always 'have a feel' for the market and enjoy everything that is happening in your life.
And may life itself surprise you with new connections and experiences, amazing trips, implementation of the projects you have in mind, and inspiration to create the new ones.
Happy Birthday!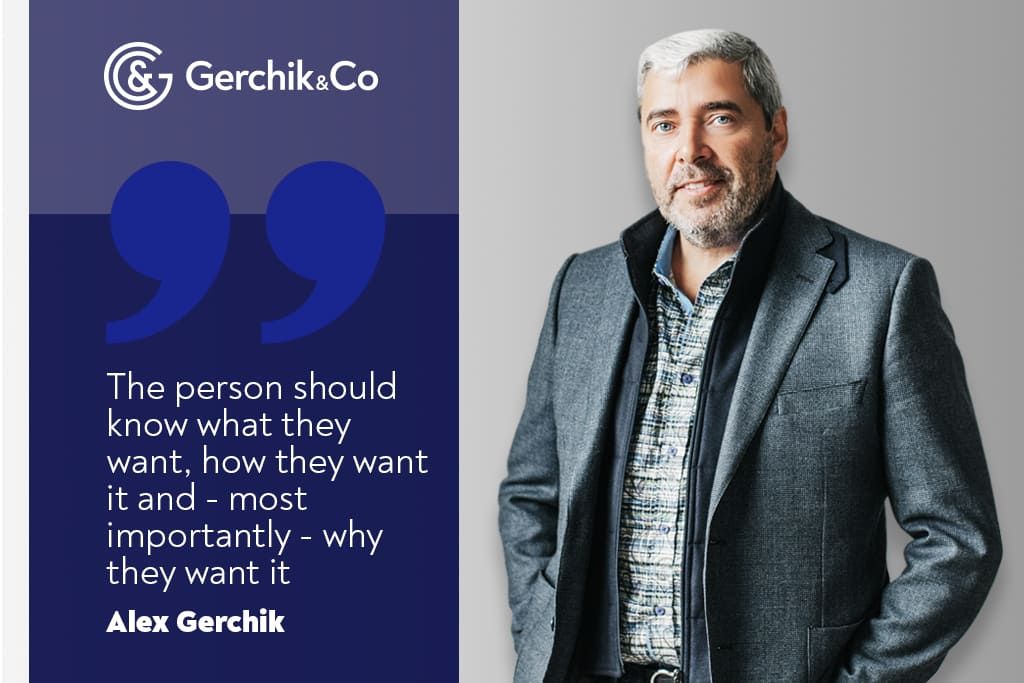 What to know:
Become a customer at Gerchik & Co

and trade in financial markets on the best terms

Open a trading account
Learn more about Gerchik & Co below
Useful articles:
Login in Personal Account