According to Chinese astrology, 2020 is a year of the White Metal Rat. Even though it's a small animal, it can trigger major changes: like in a Slavic fairy tale called Teremok where the mouse Myshka-Norushka showed up, shook its tail and… caused a great stir in the gold market! So, what can traders expect the next year?
Content:
1. Finance Horoscope 2020
2. The barrel of honey
3. A spoonful of tar
Finance Horoscope 2020
Year is a circle. 360 days are 360°, plus 5-6 days that are best spent getting prepped for the New Year. But how do you do that? Let's find out what 2020 holds for each zodiac sign when it comes to trading.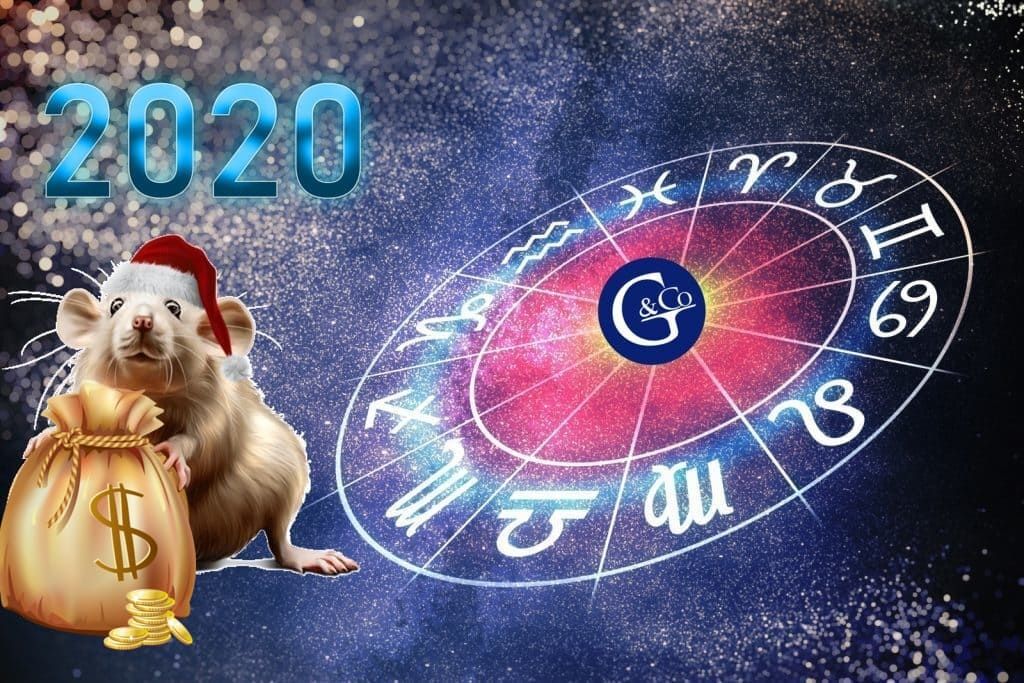 Aries
Being a symbol of the year, the rat will fill you up with optimism and energy for financial achievements. You can give new strategies, assets, and tools a whirl, since now is the best time for this.
Your habit to act fast will lead to solid results, since you will be quick enough to make money on the slightest market fluctuations.
Taurus
2020 will be the year of financial stability for you. You will realize that your path, strategies and decisions made were correct.
There is a strong possibility that you will increase your authority and influence among experts. The newbie traders will turn to you for advice, since you can teach them a lot!
Gemini
The year of the White Rat is a year of changes for you. That's why flexibility and the ability to adapt will play into your hands. You will learn something new, perhaps change the path you've chosen and make big things happen. Probably, this will be the year you will lay the foundation for your financial well-being or will take your profit to the next level.
Cancer
The White Metal Rat will help improve your leadership skills and ability to quickly solve the mysteries of financial markets. Smart risk management and a clear calculation of trades will turn you into one of the trading leaders, and new connections will lead to fruitful cooperation. The Metal Rat shows a strong dislike of deception and lies, so being one of the most honest zodiac signs, Cancer will be its favorite.
Leo
In 2020, the fire sign Leos won't be sitting and twiddling thumbs. You will conquer financial markets, and will march towards your goals whistling your favorite tune. You are likely to boost your capacities e.g. by becoming a TIMA manager or a member of the affiliate program. With the charisma and artistic bent, winning people over won't be a problem for Leos.
Virgo
The year of the White Metal Rat will beneficial for Virgos. Your attentiveness, diligence, ability to remember and analyze every little detail will be your trump card in the financial markets. In turn, the Rat will reward you for practicality with new opportunities and projects. So, do not stop halfway. After all, the Rat appreciates the go-getters.
Libra
Financial markets will need you to make quick decisions. In order not to let the profit slip through your fingers, you have to stick to the plan.
This way, you will save time and protect yourself against inconsiderate actions, since any improvisation may be detrimental to your deposit.
Scorpio
Abundant financial opportunities are in store for you. You will be able to make money on everything: foreign currencies, stocks, raw materials and even cryptocurrencies. But keep in mind that the Rat - a symbol of 2020 - is not a fan of indiscretions and chaos. Plan your next steps beforehand and create a trading algorithm to make a profit.
Sagittarius
Good luck is waiting on you: you will get a solid amount of money. You may also close a pretty large trade profitably; however, you will have to spend a portion of the profit on trips. In 2020, new connections and partnerships will pay off. They will boost your income! So, make sure to attend trading meetups more often and grow professionally in your field.
Capricorn
The rat has prepared some really positive changes for Capricorns, especially since this zodiac sign will be able to profit from them.
Your trading success will bring well-deserved respect among colleagues, while winning trades and clear forecasts will strike the eye of the others, and you may receive pretty advantageous cooperation offers.
Aquarius
2020 will be a busy year for Aquarius. Thanks to perseverance, you will be able to reach new trading heights and, possibly, even beat your own profit record.
Profitable investments and new projects are awaiting you. The key is not to slack so that the Rat can reward you for your efforts to the fullest.
Pisces
2020 will be a year of opportunities for Pisces. Your endeavors will turn out to be successful and bring you profit. The rat respects courageous people, and the Pisces people have just what it takes to make it big. Your analytical skills will help you identify the most profitable market entry points and instruments. Playing fair and using profitable trading strategies will help you materialize your wishes faster.
The barrel of honey
Let's start with the good stuff first. The rat is a symbol of wealth and prosperity. Perhaps, because this clever and quick animal always knows where to find food and how to stock up on it.
Traders, make sure to adopt a similar approach!
Use all of the possibilities at hand to maximize your capital next year. Trade and invest actively, explore new market tools and strategies!
Aside from being nifty, mouse has sharp intelligence. So, it would make sense to follow its example in the upcoming 2020 - learn something new, pimp your knowledge and skills! For instance, take the Reboot of Your Trading training course or read 3-4 insightful books.
A spoonful of tar
Rat is a greedy animal. But when it comes to trading, you can't be greedy or else a mouse will make a hole in your deposit. This is why Risk Manager solution will become your go-to tool in the new year and will keep the risk of losing the deposit down to a minimum provided that you set it up the right way.
Why you should use Risk Manager will tell Victor Makeev below
Another useful trait the rat has is its ability to adapt to the environment and survive under any conditions. New year will definitely bring changes, perhaps even pretty unexpected ones. However, in any situation, stick to a well-known principle - when life gives you lemons, make lemonade!
No matter what symbol next year will have, this isn't what really defines your success, after all. Remember that everything is in your hands so step into 2020 with new plans.
May the upcoming 2020 become a year of great prospects, and your achievements exceed your wildest expectations! Use this handy information to fill your year with financial victories! But keep in mind that no matter what the stars are forecasting, everything depends solely on you.
Keep moving forward and the Metal Rat will send beneficial opportunities your way!
What to know:
Become a customer at Gerchik & Co

and trade in financial markets under the best conditions!

Open account
Useful articles:
Login in Personal Account