The updated version of a popular trading terminal MetaTrader has already gained recognition among many traders. In today's review, we are going to explore the operating features and provide a short user guide for MT5.
It should be noted that there are no fundamental differences between this platform and the MT4. That being said, the new version has extended settings and features to choose from.
Contents:
1. МТ5 Guide: Where to Get It and How to Install the Trading Terminal
2. МТ5 Terminal: Customization
3. МТ5 Platform: Order Placement Guide
МТ5 Guide: Where to Get It and How to Install the Trading Terminal
MetaTrader 5 is a 64-bit trading platform that is easy to install on your desktop and other mobile devices. You can download the installation file from the official Gerchik & Co website in the "Trader" menu. You will be taken to the page with the MT5 download file, installation guide, and video overview of the terminal.
Run the installation file after you download it and simply follow the instructions of the software. Once the process is complete, launch the platform and proceed to its customization.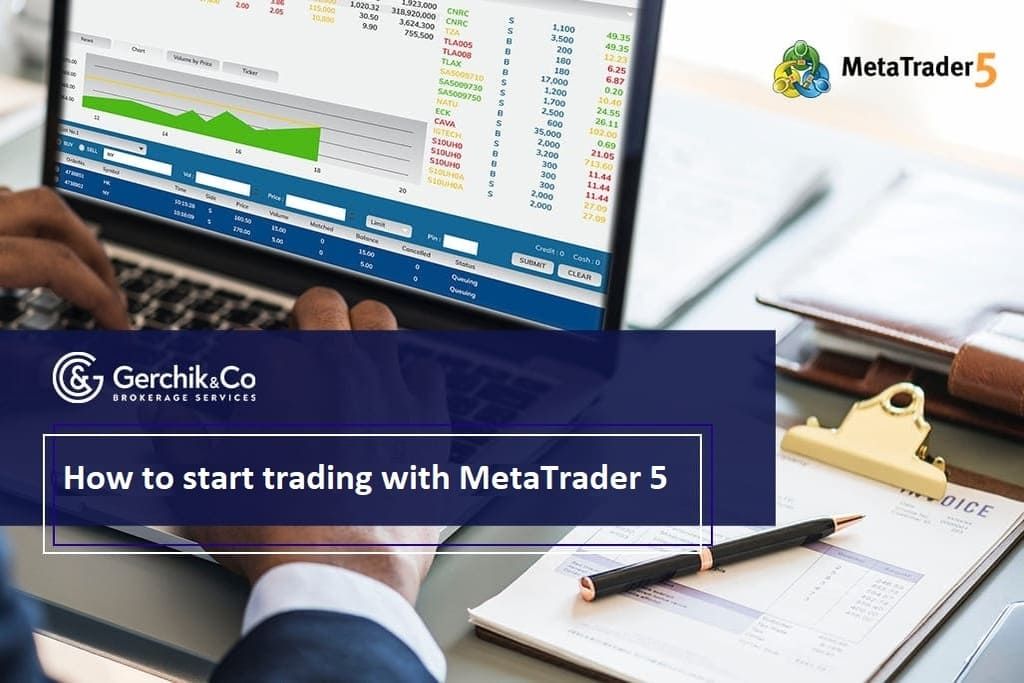 МТ5 Terminal: Customization
Launch the platform after installing it on your computer. After that, you need to sign in to your trading account. Press a relevant connection button in the bottom right corner. You will see a sign-in window where you have to enter the number of your trading account and a password. Also, choose the relevant server from the drop-down menu.
If you wish to sign in automatically next time, check the "Save password" box.
The next step is to open and customize your preferred charts and figure out how to place orders, open and close positions. On the page providing information about the platform, there is a user manual and video for MT5. You can study it or use this step-by-step instruction.
1. How to open a chart: Go to "File" in the main menu, choose "New chart" and the intended trading instrument from the drop-down menu.
2. How to customize a chart: click on the chart using the right mouse button, and select "Properties". In the appeared table, you can customize the color scheme and visualization parameters.
3. For greater convenience, you can create a chart template and profile. This is done the same way as in MetaTrader
4: just save the template by clicking on the chart and selecting "Templates" — "Save Template". To save the profile, click "File" — "Profiles" — "Save Profile". And there you have it! Your very own customized trading desk. The toolbar has easy-to-use icons to help you draw lines, channels, levels, or indicators on the chart easier. In order to explore and learn additional features, you may need to study the MT5 user guide.
It stands to mention that unlike MT4, the latest version of the trading terminal has more Expert Advisors (EA) and indicators. With an increased number of timeframes (21 instead of 9) and graphical objects (44), traders can perform a more in-depth analysis before entering positions.
МТ5 Platform: Order Placement Guide
In technical terms, the orders are opened in this platform almost the same way as it is done in МТ4. That being said, you will still need to familiarize yourself with a guide for placing orders in МТ5 since two new pending orders have been added.
Here are all of the features you get your hands on when clicking on "New order":
Market type of Buy and Sell order execution at current ask and bid prices.
Two pending orders for trading breakouts: Buy Stop and Sell Stop.
Orders with pending execution for trading bounce: Buy Limit and Sell Limit.
New pending orders: Buy Stop Limit and Sell Stop Limit. They work similarly to the limit orders used to trade bounce but they are placed after the price breaks out the indicated level. This allows opening positions with pending orders after the price rollback (level confirmation) which means that the odds of correct entry increase.
Let's Sum It Up
New MetaTrader 5 is just as easy to understand or use as МТ4. In addition, it offers more features for market analysis and precise opening of the trading positions. Its interface is user-friendly and straightforward.
However, if you still have questions regarding the difference between MT4 and MT5 terminals, make sure to watch a video guide with insightful explanations brought to you by Sergey Zabotkin that will help you tackle any difficulties that you may experience.
Login in Personal Account