Have decided to become a trader but don't know where to begin? Perhaps you feel lost like a foreigner in a huge airport. There are a bunch of confusing signs, exits, and banners which for now seem like total gibberish to you. But don't panic! Gerchik & Co is here to help you figure things out quickly and board the right plane which will get you to your ultimate destination—your financial goals.
This article is a straightforward guide consisting of 11 steps to make your trading journey as easy as possible.
Contents:
1. Registration
2. Personal account
3. Verification
4. Trading platforms
5. Account replenishment
6. Trading terms
7. Education
8. Solutions
9. TIMA
10. Contests and Giveaways
11. Affiliate program
Step 1. Registration
For starters, you need to fill out the registration form on Gerchik & Co website. This will take no more than two minutes (proven!). Once you got this out of the way, sign in to your email and confirm the email address. And voila! Your personal trading account is ready. You can now log in and explore it.
Step 2. Personal account
Just like the actual trader's office, a personal account at Gerchik & Co has everything you can possibly need for your trading routine. For example, there is the "Education" section with handy checklists, guides, pro tips from Alex Gerchik, and a huge library. Make sure to check out the book 50 Shades of Forex and Achievement Tracker for traders! By the way, company's customers like yourself can use all of that for free.
Step 3. Verification
Are you already itching to start making trades? Don't forget that when it comes to financial matters and the safety of your money, every little detail matters. To make sure that you are the only one who has access to your funds in the trading account, Gerchik & Co has implemented an identity verification procedure. All you have to do to get verified is provide 2 documents (e.g. ID document (passport) and bank statement) in your personal account and it will become your burglar-proof safe!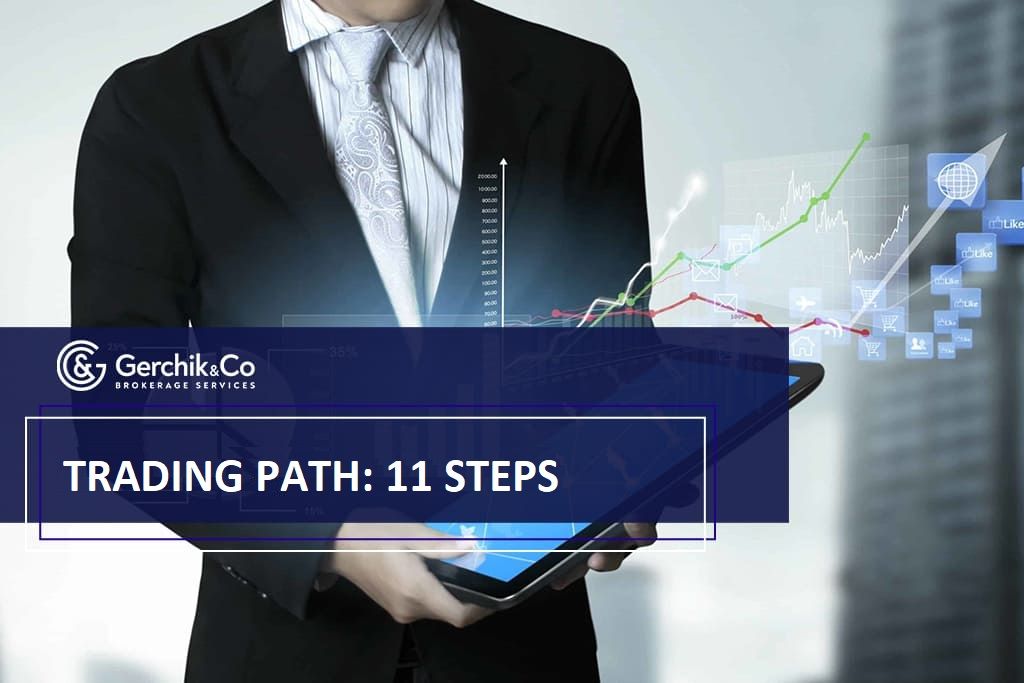 Step 4. Trading platforms
The trading platform is your key tool for making money in financial markets. Gerchik & Co offers two of the most popular platforms available. These are standard MetaTrader 4 and advanced MetaTrader 5. You can download both of them on the Gerchik & Co's website or in your personal account.
Install the platform on your personal computer or smartphone to have around-the-clock access to the market. In addition, you can use Risk Manager and Real Market Volume (find out what they are in Step 7 below) with each of the mentioned platforms.
Step 5. Account replenishment
In order to finally dive into the trading process, you need to have money in your trading account. To replenish the account, you can use a credit card, e-payment systems, wire transfer, or cryptocurrency wallets. Moreover, at Gerchik & Co, you can make instant replenishments commission-free.
Step 6. Trading terms
What's one thing that is crucial in helping traders to succeed? The answer is, nothing should get in the way :). This is why Gerchik & Co offers the most transparent trading terms to ensure that nothing comes between you and the market:
Make money comfortably—everything is in your hands!
Step 7. Education
Do you feel that you lack certain skills and knowledge to make winning trades? Fear not because Gerchik & Co has got you covered. There are the Reboot of Your Trading training course, a crash course with mentor bot, and so much more.
What's more, Alex Gerchik himself will be your mentor in the world of trading! Sounds pretty darn incredible, doesn't it? And to make sure that the knowledge you acquire generates maximum profits, the broker has prepared something special for you. Find out what it is in the next step.
Step 8. Solutions
What problems do 90% of traders face? The inability to manage risks due to overwhelming emotions, absence of a clear trading plan, mistakes made when opening and closing the trades, to name just a few. However, there is a way for you to tackle this with smart solutions provided by Gerchik & Co to its customers:
Risk Manager designed for automatic risk management.
Real Market Volume indicator intended to help you enter the market accurately.
Trader's Statistics for trade analysis based on 37 parameters.
Trader's Calculator for instantaneous calculations of the trade parameters.
Trade the way you feel comfortable. But what to do if you don't fancy the idea of trading on your own? There's a solution for that as well! To make money hassle-free, check out the next step.
Step 9. TIMA
TIMA is a simple yet profitable way to invest in financial markets. In essence, you invest your money in the account of the managing trader who is making trades and generating profits for you. Gerchik & Co ranking has over 200 managers and 37 parameters that can help you compare and pick the one whose trading approach you find suitable.
FYI, many managers are the participants and winners of the Demo Account Contest. And since we are on the subject, let's talk about contests, shall we?
Step 10. Contests and Giveaways
Gerchik & Co hosts regular contests, special offers and cash prize giveaways. For instance, one of the most popular contests is demo account contests for traders.
Based on the performance shown in the course of the competition and final results, those who make it to the Top 55 become winners and receive $1,000 which they can use to start a trading career as managers without having to invest their own money. Is that something you would like to try as well? Then be sure to follow the broker's news to not miss the announcement of the next season of the contest.
Step 11. Affiliate program
Spread the word about the advantages of trading with Gerchik & Co, attract new customers and the company will pay you up to 40% of its revenues. Did we spark your interest? Learn more about the affiliate program and sign up!
So, now you have a ready-to-use roadmap to navigate the financial markets and make money without additional stress. On top of that, a personal manager at Gerchik & Co is going to assist you at each given stage. Act bold — your time is now!
Login in Personal Account